Veikals » Putnu būra/barotavas sistēma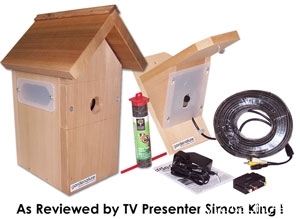 Simon King Product Review - Wildlife cameraman and TV presenter Simon King has reviewed this camera system in the My Kit Box section of his website.
This Nest Box and Bird Feeder Camera System offers everything you need to get close up images of garden birds nesting, roosting and feeding all year round!
So what do you get for your money?
Designed to be incredibly easy to set up, this kit comes with everything you need to obtain amazing live images on your own TV or *computer
The Nest Box - As well as looking good in any garden the Combi Box is hand made in our own workshops using high quality Western Red Cedar (from well managed sources) and is designed to meet RSPB recommendations. This mult-species nest box has a removeable front panel (pre-drilled with a 32mm entrance hole) making it suitable for the widest range of garden birds including
Blue Tits

Coal Tits

Marsh Tits

Great Tits

House Sparrows

Robins (Open fronted)

And possibly Wrens
A pair of metal hole protector plates (28mm & 32mm) are included and may be used to help deter predators such as squirrels or woodpeckers etc. The nest box roof incorporates a sliding drawer and quick release bracket in which the camera is mounted. This neatly keeps the camera and connectors safe, dry and away from the birds.
The Camera System - Sliding out the camera drawer in the nest box reveals the high quality, miniature colour video camera. All of our nest box cameras are manufactured to our own specification and exacting standards. The camera used in this kit is one of our HIGH RESOLUTION CCD type cameras and has a resolution of 520TVL (TV Lines). This will produce great colour images during the day and B&W images at night. Infrared light is invisible to the human eye and to birds so it will not affect their natural roosting/nesting process in any way. We use a specific type of Infrared light designed to give the optimum illumination levels inside our nest boxes. This virtually eliminates the bright white spot (known as white out) that plagues many other kits available, producing great images whatever time of day or night you are viewing. The built in microphone enables you to hear as well as see whats going on inside the nest box or at the feeder and the manually adjustable focus lens helps to ensure pin sharp images everytime!
The camera is attached to a generous 30m of professional cable which simply attaches to your TV, DVD/video recorder or *computer. This single cable contains the feed for video and audio and also transfers power to the camera. The cable has three connectors on the end of it. They are black, yellow and white. The black connector attaches to the 12v DC mains power adaptor (supplied) to provide power to your camera. The yellow (video) and white (audio) connectors plug directly into a spare AV or Scart socket on your TV, DVD/video recorder or *computer. Simply plug these in, switch over to the appropriate AV channel, sit back and wait for the show to start!
The Feeder Cam - What makes this camera system so versatile and different from anything else on the market today is that if a pair of birds dont nest in your box, or its no longer the breeding season, simply slide out the drawer in the roof of the nest box, unclip the camera and put it into the supplied Feeder Cam housing. Hang a bird feeder from the housing and you will now have close up footage of birds on your feeder and a nest box that can still be used at a later date. A truly versatile system that can be used all year round!
Please Note: Footage has been compressed for viewing over the internet. Actual footage will be even better!
This kit contains:
High quality bird box with integrated sliding drawer and quick release camera bracket (Camera can be moved between boxes and feeders in seconds!)

High quality Feeder ViewCam housing with quick release camera bracket.

High quality, high resolution COLOUR CCD camera (520TVL resolution) with built in Infrared Illumination enabling viewing 24 hours a day. (Colour images during the day and B&W images at night).

Integral microphone to hear as well as see whats going on inside the Bird Box.

User adjustable focus lens, easily adjusted to ensure pin sharp images

(x2) metal hole protector plates (28mm diameter , 32mm diameter - to help deter squirrels and other predators)

30m of professional cable (wired kit only).


12v Regulated Mains adaptor

Fixing Kit

Scart Adapter

Instruction sheet full of useful tips to help maximise the chances of birds nesting in your new box.
Would you like to connect this camera system to your computer?
This kit can be connected straight to your computer if you have the appropriate connections. Look for a round yellow socket (the same as on your TV) on the back of your PC. If you have one of these connectors on your PC it will most likely be on the graphics card, a TV card or a dedicated capture card. If you dont have this connection or you plan to use a laptop we would recommend using one of our Video to USB adaptors. All you need is a spare USB socket and an audio jack input socket (most computers will have these). Software is supplied to get you started (we have XP/Vista and Apple Mac versions available) but once connected you can pretty much use any piece of software that can accept a live video input (eg. most webcam software). We recommend I-catcher Wildlife. This has full motion detection capabilities and much more!
The system is supplied with clear, easy to follow instructions. You will also find lots of other useful information in our Advice and FAQ sections too.
Click on the Gallery tab to see further images of this product

You will have the opportunity to add accessories to this kit such as extension cables and the video to USB adaptor after you click on the ADD TO BASKET button above.
Cena 163.63 €
Cena LOB biedriem 149.40 €

Pieejams daudzums: 2

Saite uz šo produktu:
http://www.motacilla.lv/?mod=107&product_id=364

Uz augšu