Veikals » Putnu saucējs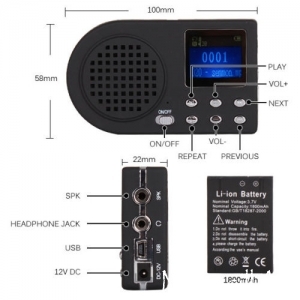 Tiek pārdots tikai gredzenotājiem, kas saņēmuši LGC gredzenošanas atļauju, kā arī cilvēkiem, kas strādā LOB projektos.
Ir viena vārīga vieta, bet, ja nestrādā, jāaiznes uz darbnīcu (varam ieteikt adresi, darbs maksā 5 EUR), lai pārlodē vienu savienojumu.
The sounds are changeable (.mp3 & .wma), simply plug the unit into your PC with the USB cable (supplied).
Drag and drop any sound you wish onto the .
The built in speaker is VERY loud and it comes with a remote control that will work up to 100m away.
"THIS IS AN OUTSTANDING CALLER, EASY TO USE AND SIMPLE TO CHANGE THE CALLS TO ANYTHING YOU WISH! PLUG IT INTO YOUR PC AND CHANGING CALLS COULD NOT BE EASIER. CLEAR AND POWERFUL SOUND FOR SUCH A COMPACT UNIT. THE REMOTE CONTROL ALLOWS YOU TO CONTROL ALL THE FUNCTIONS FROM A MASSIVE 100M RANGE!"
If you are going to use the caller for wildlife photography or bird watching, I have an extensive collection of professional calls for non quarry species! Just let me know and I can send them to you by e-mail, after your purchase!!!
Specification:
Colourful LCD display.
Builtin memory.
Remote Control up to 100m.
Selection of ANY POSSIBLE sounds via USB.
Rugged design and rear belt clip.
External Power option.
High Quality MP3 Sounds.
High Volume Output via the built in internal speaker.
External Speaker option for Increased Volume (sold separately).
Battery Pack compatible, the caller can be powered by an external battery pack (sold separately).
Built-in removable-1800mAh lithium battery gives you over 10 hours of usage
SIZE: 99*59*22mm.
What's included?
1-Bird caller device
1-Remote control
1- USB cable charger
1- Clip
1- Rechargeable battery
1- User manual instructions
1 - Gif box
Cena 70.00 €
Cena LOB biedriem 65.00 €

Pieejams daudzums: 5

Saite uz šo produktu:
http://www.motacilla.lv/?mod=107&product_id=501

Uz augšu