Shop » Feathers of European owls. M. Cieslak. 2017.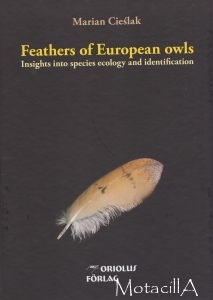 Marian Cieślak (1950 - 2016) became one of the few researchers in Europe to commence with scientific study of bird feathers, and most especially - the feathers of birds of prey and owls. This resulted in the first guide to feathers published in Polish (in 1999). Presented there were baseline details on how to identify the feathers of selected bird species enjoying legal protection (mainly birds of prey and owls). In his publications, Marian Cieślak noted repeatedly how the identification of bird feathers was one of the least-developed areas of applied ornithology - and all the more so when set against, for example, flight identification, or the identification of calls, nests and eggs. This was therefore the inspiration for further research into feathers resulting in the release of another book - Feathers: Identification for Bird Conservation (Cieślak and Dul 2006); which was published in both Polish and English. In the years that followed, the research focus homed in on the ecology of owls, and in particular the relationship between biology, plumage and the moulting process.
This book fills many gaps in current knowledge of owl feathers. The Author not only describes the identification of feathers of the European owl species, but also presents relationships between feather morphology and the behaviour and ecology of this group of birds. These findings are largely based on the Author's original research, and his extensive collection of feathers.
Text in English. 20,5 x 28,5 cm, 206 pages, 282 colour plates, hard cover.
Price 50.00 €
Price for LOB members 45.00 €

In stock: 2

Link to this product:
http://www.motacilla.lv/?mod=107&product_id=588

To top